SonicWall Capture Client

Powered by SentinelOne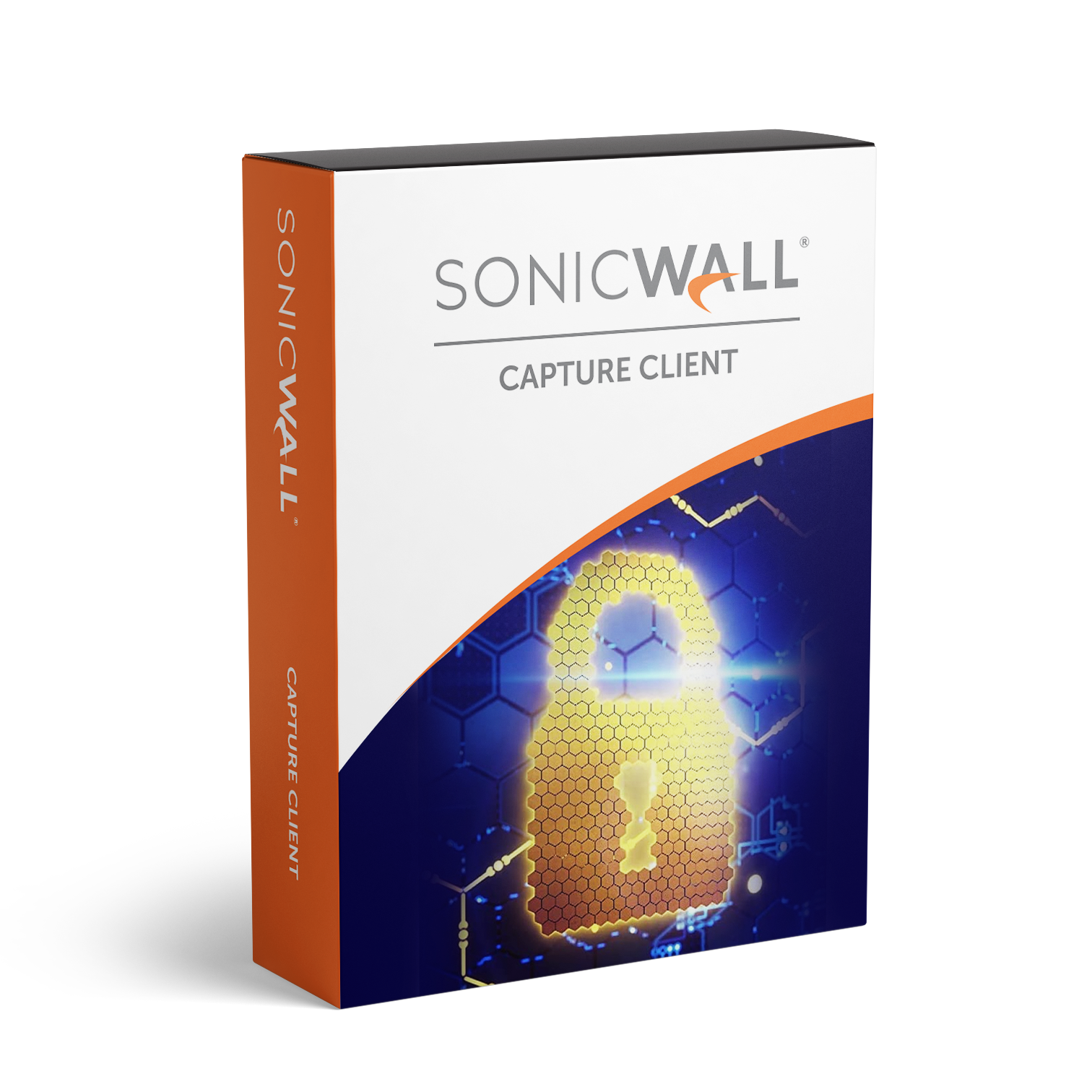 SonicWall Products
SonicWall Capture Client Advanced
SonicWall Capture Client Advanced 5 - 24 Endpoints 1 Year
Per Endpoint for S/W & 24x7 Support
#02-SSC-1519
List Price: $63.25
Add to Cart for Pricing
SonicWall Capture Client Advanced 25 - 49 Endpoints 1 Year
Per Endpoint for S/W & 24x7 Support
#02-SSC-1521
List Price: $59.40
Add to Cart for Pricing
SonicWall Capture Client Advanced 50 - 99 Endpoints 1 Year
Per Endpoint for S/W & 24x7 Support
#02-SSC-1523
List Price: $52.00
Add to Cart for Pricing
SonicWall Capture Client Premier
SonicWall CAPTURE CLIENT PREMIER 5-24 ENDPOINTS, 1 Year
SonicWall Capture Client Premier delivers NGAV, Advanced EDR and integration with SonicWall Firewalls
#02-SSC-9837
List Price: $93.60
Add to Cart for Pricing
SonicWall CAPTURE CLIENT PREMIER 25-49 ENDPOINTS, 1 Year
SonicWall Capture Client Premier delivers NGAV, Advanced EDR and integration with SonicWall Firewalls
#02-SSC-9839
List Price: $92.30
Add to Cart for Pricing
SonicWall CAPTURE CLIENT PREMIER 50-99 ENDPOINTS, 1 Year
SonicWall Capture Client Premier delivers NGAV, Advanced EDR and integration with SonicWall Firewalls
#02-SSC-9841
List Price: $88.40
Add to Cart for Pricing
More pricing below, click here!
Overview:
SonicWall Capture Client is a unified client platform that delivers multiple endpoint protection capabilities, including next-generation malware protection and application vulnerability intelligence. It leverages cloud sandbox file testing, comprehensive reporting, and enforcement for endpoint protection. Additionally, provide consistent assurance of client security, with easy-to-use and actionable intelligence and reporting.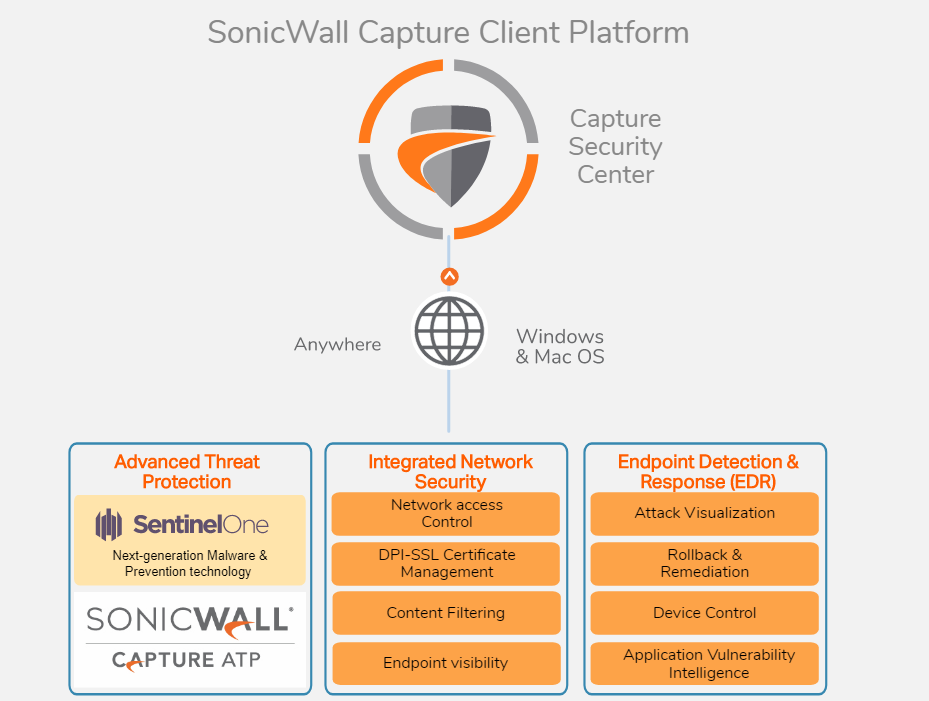 STOP ATTACKS BEFORE THEY EXECUTE
Examine files that are possibly waiting to activate in a cloud sandbox
Rely on dynamic white/blacklisting and cloud intelligence
Utilize advanced static analysis to identify threats during download
Exercise shared threat intelligence from SonicWall's verdict database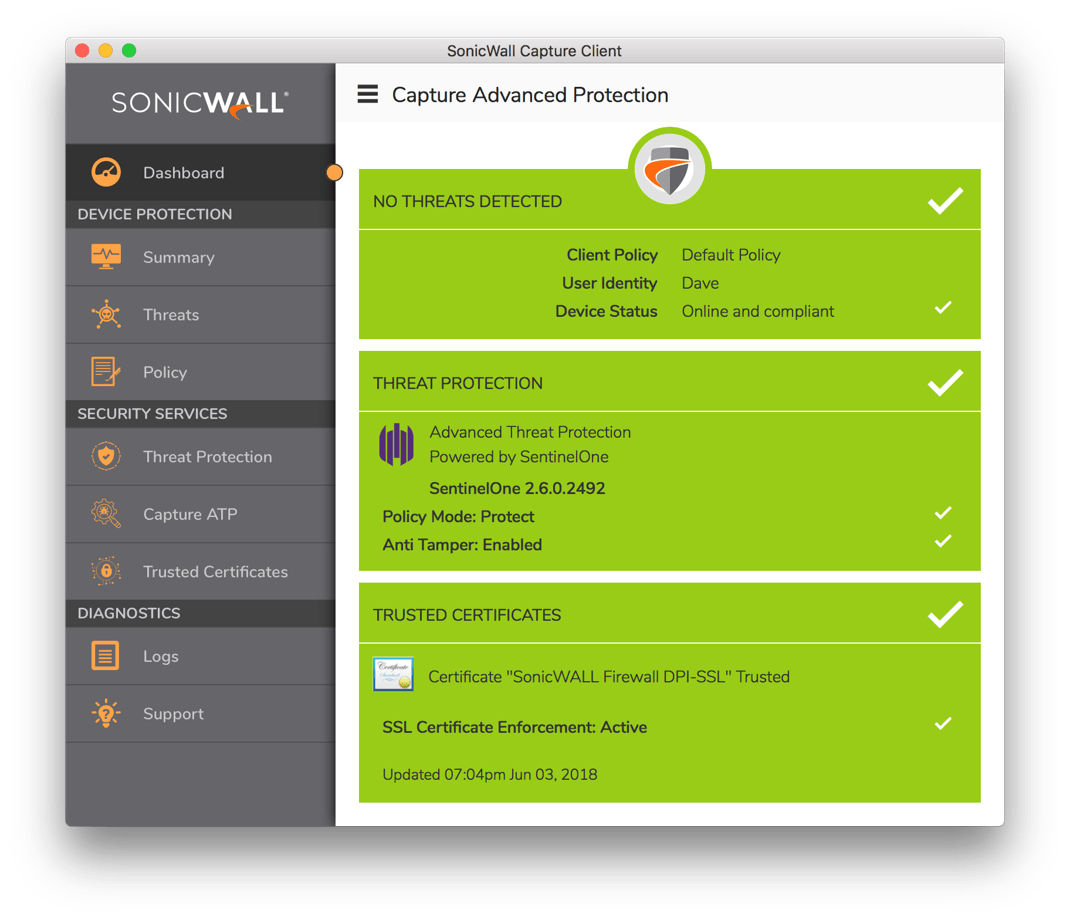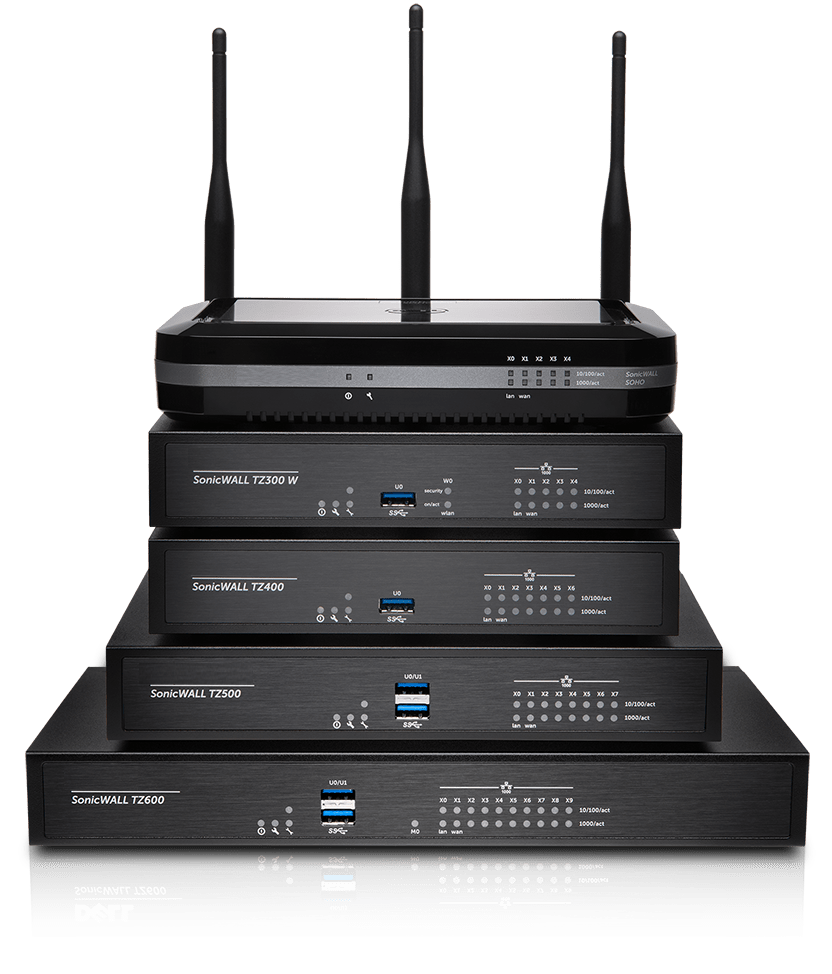 SYNERGIZE WITH YOUR SONICWALL FIREWALL
Leverage SonicWall's layered network security
Enforce network access for non-compliant endpoints
Easily inspect encrypted traffic by installing certificate roots
Content Filtering
ADVANCED REPORTING
View threat visualization maps to see where threats came from and went
Effortlessly understand your security posture
Swiftly white/blacklist known applications
Catalog your applications and see which ones are vulnerable.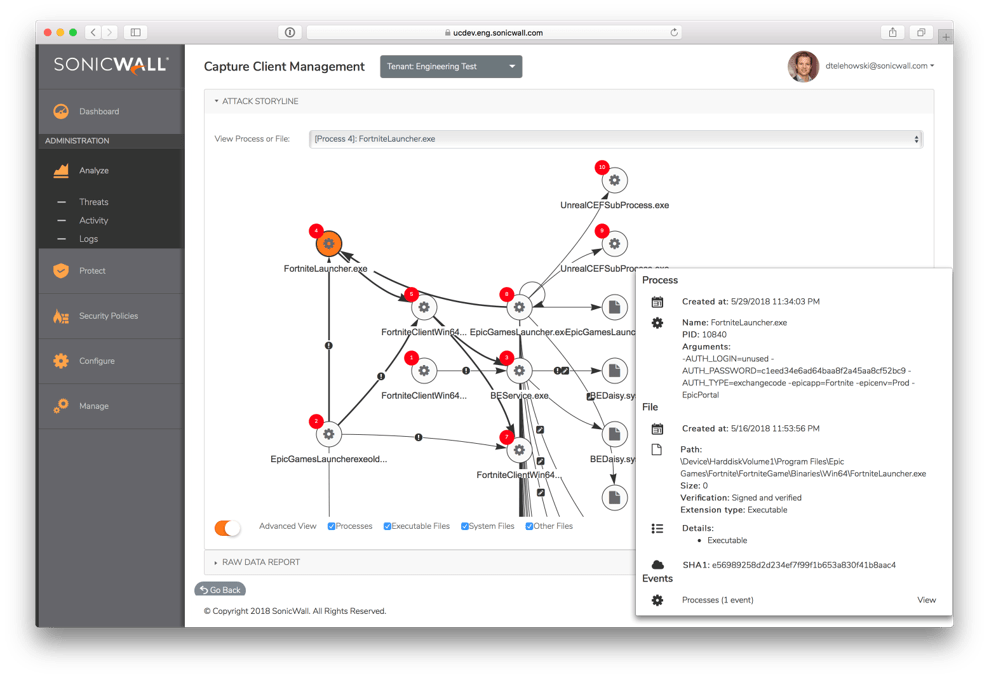 Features & Benefits:
Continuous behavioral monitoring
See complete profiles of file, application, process, and network activity
Protect against both file-based and fileless malware
Deliver a 360-degree attack view with actionable intelligence
Multiple layered, heuristic-based techniques
Leverage cloud intelligence, advanced static analysis and dynamic behavioral protection
Protect against and remediate known and unknown malware before, during, or after an attack
No need for regular scans or periodic updates
Enable the highest level of protection at all times without hampering user productivity
Receive a full scan on install and continuously monitors for suspicious activity continually afterward
Application Vulnerability Intelligence (for Window and MacOS)
Catalog every installed application and any associated risk
Examine known vulnerabilities with details of the CVEs and severity levels reported
Use this data to prioritize patching and reduce the attack surface
Optional integration with SonicWall firewalls
Enable enforcement of deep packet inspection of encrypted traffic (DPI-SSL) on
Easily deploy trusted certificates to each
Direct unprotected users to a Capture Client download page before accessing the Internet when behind a firewall
Content Filtering (for Windows and MacOS)
Block malicious sites IP addresses, and domains
Increase user productivity by throttling bandwidth or restricting access to objectionable or unproductive web content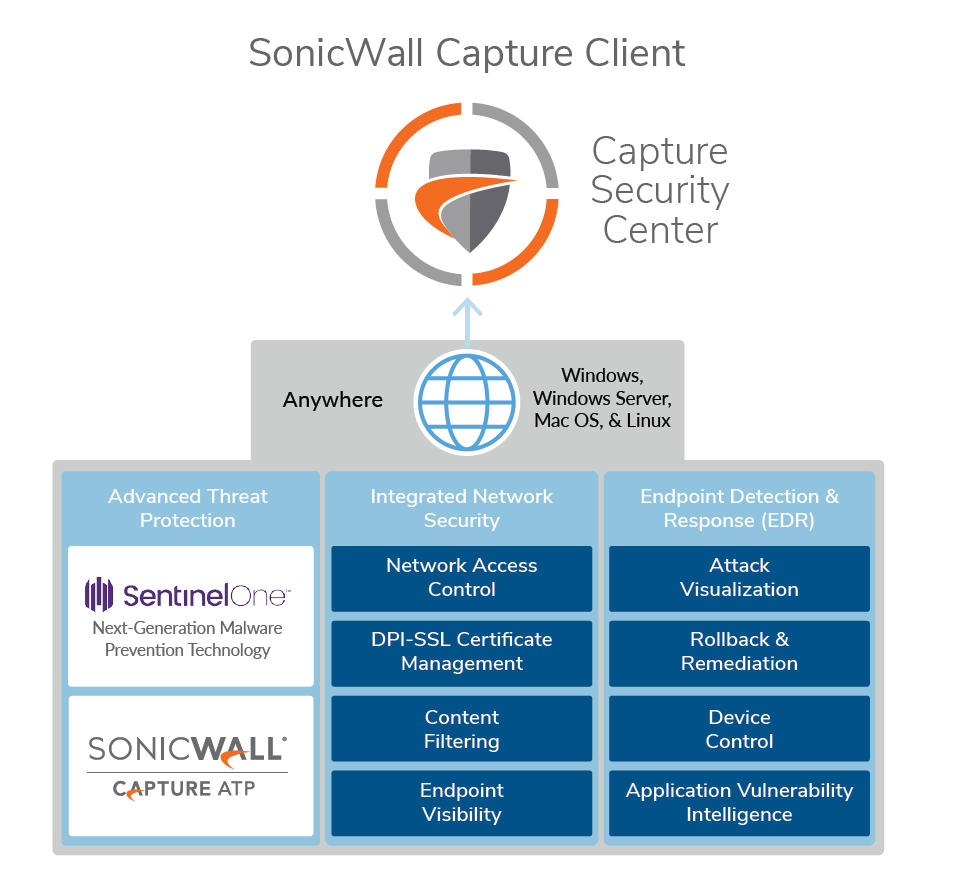 Videos:
Specifications:
FEATURES COMPARISON

Feature

Basic

Advanced

Cloud Management, Reporting & Analytics (CSC)

Integrated Network Security

Endpoint Visibility

DPI-SSL Certificate Deployment

Content Filtering

–

Advanced Threat Protection

Next-Generation Antimalware

Capture Advanced Threat Protection Sandboxing

–

Endpoint Detection and Response

Attack Visualization

–

Rollback & Remediation

–

Device Control

–

Application Vulnerability and Intelligence

–
SYSTEM REQUIREMENTS
Operating Systems
Windows 7 and upwards
Windows Server 2008 R2 and upwards
Mac OS/OSX 10.10 and upwards
Amazon Linux AMI
Red Hat Enterprise Linux RHEL v5.5-5.11, 6.5+, 7.0+
Ubuntu 12.04, 14.04, 16.04, 16.10
CentOS 6.5+, 7.0+
Oracle Linux OL (formerly known as Oracle Enterprise Linux or OEL) v6.5-6.9 and v7.0+
SUSE Linux Enterprise Server 12
Hardware
1 GHz Dual-core CPU or better
1 GB RAM or higher if required by OS (recommended 2 GB)
2 GB free disk space
Pricing Notes:
Pricing and product availability subject to change without notice.
SonicWall Products
SonicWall Capture Client Advanced
SonicWall Capture Client Advanced 5 - 24 Endpoints 1 Year
Per Endpoint for S/W & 24x7 Support
#02-SSC-1519
List Price: $63.25
Add to Cart for Pricing
SonicWall Capture Client Advanced 25 - 49 Endpoints 1 Year
Per Endpoint for S/W & 24x7 Support
#02-SSC-1521
List Price: $59.40
Add to Cart for Pricing
SonicWall Capture Client Advanced 50 - 99 Endpoints 1 Year
Per Endpoint for S/W & 24x7 Support
#02-SSC-1523
List Price: $52.00
Add to Cart for Pricing
SonicWall Capture Client Premier
SonicWall CAPTURE CLIENT PREMIER 5-24 ENDPOINTS, 1 Year
SonicWall Capture Client Premier delivers NGAV, Advanced EDR and integration with SonicWall Firewalls
#02-SSC-9837
List Price: $93.60
Add to Cart for Pricing
SonicWall CAPTURE CLIENT PREMIER 25-49 ENDPOINTS, 1 Year
SonicWall Capture Client Premier delivers NGAV, Advanced EDR and integration with SonicWall Firewalls
#02-SSC-9839
List Price: $92.30
Add to Cart for Pricing
SonicWall CAPTURE CLIENT PREMIER 50-99 ENDPOINTS, 1 Year
SonicWall Capture Client Premier delivers NGAV, Advanced EDR and integration with SonicWall Firewalls
#02-SSC-9841
List Price: $88.40
Add to Cart for Pricing
SonicWall Capture Client Advanced (1 Year)
SonicWall Capture Client Advanced 100 - 249 Endpoints 1 Year
Per Endpoint for S/W & 24x7 Support
#02-SSC-1525
List Price: $50.00
Add to Cart for Pricing
SonicWall Capture Client Advanced 250 - 499 Endpoints 1 Year
Per Endpoint for S/W & 24x7 Support
#02-SSC-1455
List Price: $47.00
Add to Cart for Pricing
SonicWall Capture Client Advanced 500 - 999 Endpoints 1 Year
Per Endpoint for S/W & 24x7 Support
#02-SSC-1457
List Price: $45.00
Add to Cart for Pricing
SonicWall Capture Client Advanced 1000 - 4999 Endpoints 1 Year
Per Endpoint for S/W & 24x7 Support
#02-SSC-1459
List Price: $43.00
Add to Cart for Pricing
SonicWall Capture Client Advanced 5000 - 9999 Endpoints 1 Year
Per Endpoint for S/W & 24x7 Support
#02-SSC-1461
List Price: $42.00
Add to Cart for Pricing
SonicWall Capture Client Advanced 10000+ Endpoints 1 Year
Per Endpoint for S/W & 24x7 Support
#02-SSC-1463
List Price: $41.00
Add to Cart for Pricing
SonicWall Capture Client Premier (1 Year)
SonicWall CAPTURE CLIENT PREMIER 100-249 ENDPOINTS, 1 Year
SonicWall Capture Client Premier delivers NGAV, Advanced EDR and integration with SonicWall Firewalls
#02-SSC-9843
List Price: $78.00
Add to Cart for Pricing
SonicWall CAPTURE CLIENT PREMIER 250-499 ENDPOINTS, 1 Year
SonicWall Capture Client Premier delivers NGAV, Advanced EDR and integration with SonicWall Firewalls
#02-SSC-9827
List Price: $74.40
Add to Cart for Pricing
SonicWall CAPTURE CLIENT PREMIER 500-999 ENDPOINTS, 1 Year
SonicWall Capture Client Premier delivers NGAV, Advanced EDR and integration with SonicWall Firewalls
#02-SSC-9829
List Price: $70.80
Add to Cart for Pricing
SonicWall CAPTURE CLIENT PREMIER 1000-4999 ENDPOINTS, 1 Year
SonicWall Capture Client Premier delivers NGAV, Advanced EDR and integration with SonicWall Firewalls
#02-SSC-9831
List Price: $61.20
Add to Cart for Pricing
SonicWall CAPTURE CLIENT PREMIER 5000-9999 ENDPOINTS, 1 Year
SonicWall Capture Client Premier delivers NGAV, Advanced EDR and integration with SonicWall Firewalls
#02-SSC-9833
List Price: $56.40
Add to Cart for Pricing
SonicWall CAPTURE CLIENT PREMIER 10000+ ENDPOINTS, 1 Year
SonicWall Capture Client Premier delivers NGAV, Advanced EDR and integration with SonicWall Firewalls
#02-SSC-9835
List Price: $51.60
Add to Cart for Pricing
SonicWall Capture Client Advanced (3 Year)
SonicWall Capture Client Advanced 5 - 24 Endpoints 3 Year
Per Endpoint for S/W & 24x7 Support
#02-SSC-1518
List Price: $151.80
Add to Cart for Pricing
SonicWall Capture Client Advanced 25 - 49 Endpoints 3 Year
Per Endpoint for S/W & 24x7 Support
#02-SSC-1520
List Price: $142.56
Add to Cart for Pricing
SonicWall Capture Client Advanced 50 - 99 Endpoints 3 Year
Per Endpoint for S/W & 24x7 Support
#02-SSC-1522
List Price: $125.00
Add to Cart for Pricing
SonicWall Capture Client Advanced 100 - 249 Endpoints 3 Year
Per Endpoint for S/W & 24x7 Support
#02-SSC-1524
List Price: $120.00
Add to Cart for Pricing
SonicWall Capture Client Advanced 250 - 499 Endpoints 3 Year
Per Endpoint for S/W & 24x7 Support
#02-SSC-1454
List Price: $113.00
Add to Cart for Pricing
SonicWall Capture Client Advanced 500 - 999 Endpoints 3 Year
Per Endpoint for S/W & 24x7 Support
#02-SSC-1456
List Price: $108.00
Add to Cart for Pricing
SonicWall Capture Client Advanced 1000 - 4999 Endpoints 3 Year
Per Endpoint for S/W & 24x7 Support
#02-SSC-1458
List Price: $103.20
Add to Cart for Pricing
SonicWall Capture Client Advanced 5000 - 9999 Endpoints 3 Year
Per Endpoint for S/W & 24x7 Support
#02-SSC-1460
List Price: $100.80
Add to Cart for Pricing
SonicWall Capture Client Advanced 10000+ Endpoints 3 Year
Per Endpoint for S/W & 24x7 Support
#02-SSC-1462
List Price: $98.40
Add to Cart for Pricing
SonicWall Capture Client Premier (3 Year)
SonicWall CAPTURE CLIENT PREMIER 5-24 ENDPOINTS, 3 Year
SonicWall Capture Client Premier delivers NGAV, Advanced EDR and integration with SonicWall Firewalls
#02-SSC-9836
List Price: $224.64
Add to Cart for Pricing
SonicWall CAPTURE CLIENT PREMIER 25-49 ENDPOINTS, 3 Year
SonicWall Capture Client Premier delivers NGAV, Advanced EDR and integration with SonicWall Firewalls
#02-SSC-9838
List Price: $221.52
Add to Cart for Pricing
SonicWall CAPTURE CLIENT PREMIER 50-99 ENDPOINTS, 3 Year
SonicWall Capture Client Premier delivers NGAV, Advanced EDR and integration with SonicWall Firewalls
#02-SSC-9840
List Price: $212.16
Add to Cart for Pricing
SonicWall CAPTURE CLIENT PREMIER 100-249 ENDPOINTS, 3 Year
SonicWall Capture Client Premier delivers NGAV, Advanced EDR and integration with SonicWall Firewalls
#02-SSC-9842
List Price: $187.20
Add to Cart for Pricing
SonicWall CAPTURE CLIENT PREMIER 250-499 ENDPOINTS, 3 Year
SonicWall Capture Client Premier delivers NGAV, Advanced EDR and integration with SonicWall Firewalls
#02-SSC-9826
List Price: $178.56
Add to Cart for Pricing
SonicWall CAPTURE CLIENT PREMIER 500-999 ENDPOINTS, 3 Year
SonicWall Capture Client Premier delivers NGAV, Advanced EDR and integration with SonicWall Firewalls
#02-SSC-9828
List Price: $169.92
Add to Cart for Pricing
SonicWall CAPTURE CLIENT PREMIER 1000-4999 ENDPOINTS, 3 Year
SonicWall Capture Client Premier delivers NGAV, Advanced EDR and integration with SonicWall Firewalls
#02-SSC-9830
List Price: $146.88
Add to Cart for Pricing
SonicWall CAPTURE CLIENT PREMIER 5000-9999 ENDPOINTS, 3 Year
SonicWall Capture Client Premier delivers NGAV, Advanced EDR and integration with SonicWall Firewalls
#02-SSC-9832
List Price: $135.36
Add to Cart for Pricing
SonicWall CAPTURE CLIENT PREMIER 10000+ ENDPOINTS, 3 Year
SonicWall Capture Client Premier delivers NGAV, Advanced EDR and integration with SonicWall Firewalls
#02-SSC-9834
List Price: $123.84
Add to Cart for Pricing