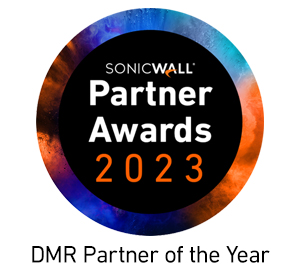 SonicWall Switch SWS12-8POE

8 ports, 2 SFP, PoE, compact form factor, energy-efficient design for SonicWall SWS12-8POE

SonicWall Products
SonicWall Switches
SonicWall Switch SWS12-8POE
SonicWall Switch SWS12-8POE with 8 ports, 2 SFP, PoE, compact form factor, energy-efficient design
Reduce price! This is a promotional item, please add to cart to see your final price
#02-SSC-2463
List Price: $379.95
Add to Cart for Pricing
SonicWall Switch Support Bundles
SonicWall Switch SWS12-8POE with Support 1 Year
Reduce price! This is a promotional item, please add to cart to see your final price
#02-SSC-8367
List Price: $429.95
Add to Cart for Pricing
SonicWall Switch SWS12-8POE with Support 3 Year
Reduce price! This is a promotional item, please add to cart to see your final price
#02-SSC-8368
List Price: $484.95
Add to Cart for Pricing
24X7 Support for SonicWall Switches
24X7 Support for SonicWall Switch SWS12-8POE 1 Year
#02-SSC-4638
List Price: $55.00
Add to Cart for Pricing
24X7 Support for SonicWall Switch SWS12-8POE 3 Year
#02-SSC-4725
List Price: $125.00
Add to Cart for Pricing
24X7 Support for SonicWall Switch SWS12-8POE 5 Year
#02-SSC-4778
List Price: $205.00
Add to Cart for Pricing
Rackmounts for SonicWall Products
Rack Mount Kit for SonicWall SWS12-8 & SWS12-8POE
#RM-SW-T8
List Price: $159.00
Add to Cart for Pricing
Click here to jump to more pricing!
Overview:
The SonicWall Switch delivers high-speed network switching while providing unparalleled performance and manageability through SonicWall firewalls or Wireless Network Manager. Its unified security posture, high port density, Power over Ethernet (PoE) options and gigabit or 10 gigabit performance capabilities makes it ideal for small and medium-sized business (SMB), and Software-Defined Branch (SD-Branch) deployments. This enables businesses – big or small, to undergo digital transformation and keep pace with the changing network and security landscape.
The SonicWall Secure SD-Branch solution transforms user experience at branch office locations by delivering a unified platform that enables branches to be deployed in minutes and delivers unified visibility and threat detection from a single pane of glass. SonicWall SD-Branch components consist of SonicWall next-generation firewalls with Secure SD-WAN, Capture Security Center with Zero-Touch Deployment, SonicWall Switches, SonicWave access points (AP), Capture Client and Cloud App Security. With the flexibility that SonicWall Secure SD-Branch offers, organizations can now be more agile, open and cloud-centric.
An integral part of the next-generation branch transformation, the SonicWall Switches are managed via firewalls or Wireless Network Manager (WNM) for unified, single-pane-of-glass management. By tightly integrating with SonicWall firewalls and SonicWave Access Points, the solution benefits from unified security posture and offers an end-to-end security solution that simplifies deployment, management and troubleshooting. This ensures seamless security and eliminates gap in security posture that may arise with third party switches.
In conjunction, the SonicWall Switch offers Zero-Touch Deployment capability with the ability to quickly roll out devices across branches spread out globally. Admins can quickly and securely deploy these switches at new locations without requiring any costly on-site IT personnel.
Packed with features, these switches are available in a compact form factor with an energy-efficient design. Available in seven models, ranging from eight to 48, with gigabit and 10 gigabit Ethernet ports, the switches work seamlessly with SonicWall next-generation firewalls and SonicWave APs to create a high performance secure network. The Ethernet ports provide PoE options to power on various devices such as APs, VOIP phones and IP cameras.
Prioritize certain traffic on the network such as VOIP for video conferences while working from home, with features such as QoS. Easily segment devices in the network and maintain compliance. Segregating can be accomplished by creating policies or VLANs. Features such as 802.1X authentication allows business to maintain PCI compliance.
Highlights:
SD-Branch ready
Firewall and WNM managed
Zero-Touch Deployment
Unified security posture
Layer 2 switching
10 gigabit or 1 gigabit support
8/10/24/48-port models
Various PoE options
QoS support
Segmentation and compliance
Compact form factor
Energy-efficient design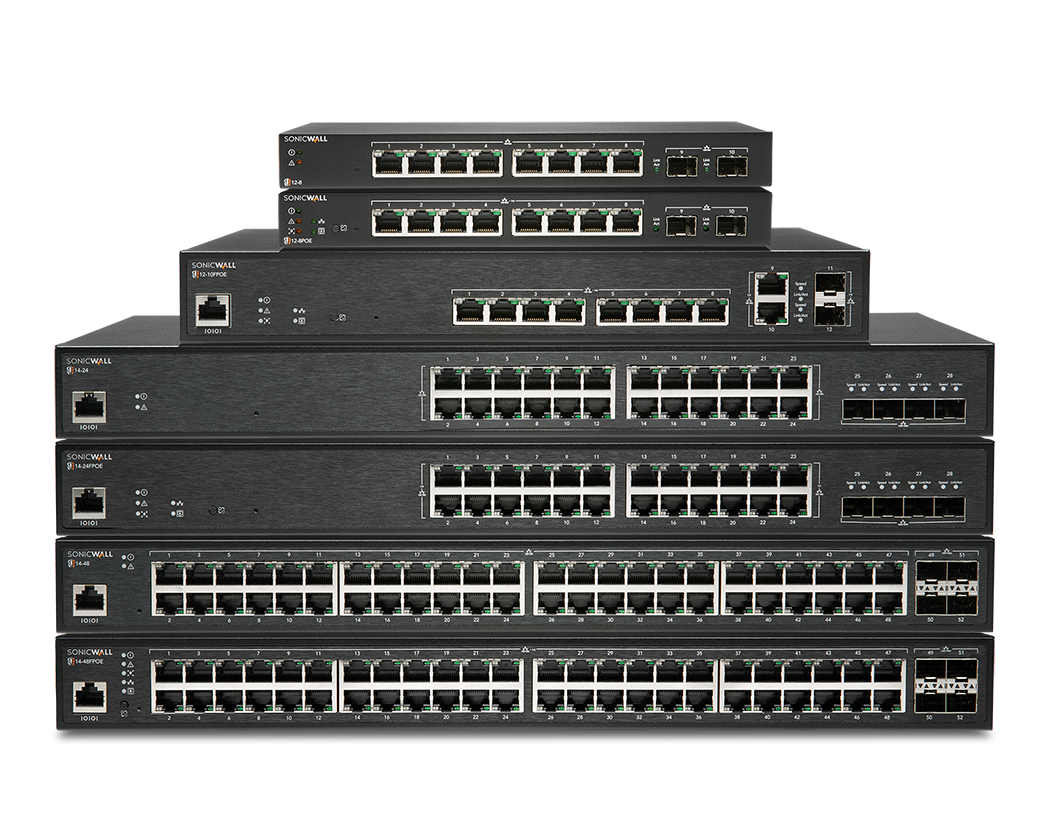 ---
| Models: | SWS12-8 | SWS12-8POE | SWS12-10FPOE | SWS14-24 | SWS14-24FPOE | SWS14-48 | SWS14-48FPOE |
| --- | --- | --- | --- | --- | --- | --- | --- |
| Number of GB Ethernet Ports | 8 | 8 | 10 | 24 | 24 | 48 | 48 |
| Number of SFP/SFP+ Ports | 2 SFP | 2 SFP | 2 SFP | 4 SFP+ | 4 SFP+ | 4 SFP+ | 4 SFP+ |
| PoE Support | Non-PoE | 802.3af | 802.3at | Non-PoE | 802.3at | Non-PoE | 802.3at |
Features:
Management and Configuration
Manage through Capture Security Center via Network Security Manager (NSM) or Wireless Network manager (WNM)
Switch Auto-Discovery
Daisy chaining via firewalls
Software Upgrade of Switches (From Firewall) or Wireless Network Manager
Centralized VLAN Configuration
Static/Dynamic LAG
STP
LLDP/MED
Static Routing
IPv4 Management
SSH
Firewall Management, Standard CLI and Web GUI Interface
Software upgrade/downgrade via TFTP/Firewall/GUI
IPv6 support
Security and Visibility
802.1x Authentication
Syslog Collection
IP/MAC ACL
ACL
IEEE 802.1x authentication Port-based
IEEE 802.1x Guest and Fallback VLAN
Firewall Features Enforced on Management Firewall
IPS, AV, Application Control, Botnet
Layer 2
Jumbo Frames
Auto-negotiation for Port Speed and Duplex
MDI/MDIX Auto-crossover
MAC Bridging/STP
Rapid Spanning Tree Protocol (RSTP)
Multiple Spanning Tree Protocol (MSTP)
VLAN Tagging
Guest VLAN and Voice VLAN
Link Aggregation with LACP
Unicast/Multicast traffic balance over trunking port
Spanning Tree Instances (MSTP/CST)
Flow Control and Back-pressure
10Base-T
100Base-TX
1000Base-SX/LX
1000Base-T
Gigabit Ethernet support
10 Gigabit Ethernet (available on 24 and 48-port models only)
CSMA/CD Access Method and Physical Layer Specifications
Storm Control
MAC, IP, Ethertype-based VLANs
Quality of Service
IEEE 802.1p Based Priority Queuing
IP TOS/DSCP Based Priority Queuing
Specifications:
Hardware:
SWS12-8
SWS12-8POE
SWS12-10FPOE
SWS14-24
SWS14-24FPOE
SWS14-48
SWS14-48FPOE
1G Cu
8
8
10
24
24
48
48
1G SFP
2
2
2
-
-
-
-
10G SFP+
-
-
-
4
4
4
4
Total Interfaces
10
10
12
28
28
52
52
Memory (MB)
256
256
256
512
512
512
512
Flash (MB)
32
32
32
128
128
128
128
Packet Buf.
512K
512K
512K
1.5M
1.5M
2M
2M
Mac Table
8K
8K
8K
32K
32K
32K
32K
Switching (Gbps)
20
20
24
128
128
176
176
Fan
-
-
1
-
2
1
3
PoE Standard
-
802.3af
802.3af/at
-
802.3af/at
-
802.3af/at
PoE Power (Watts)
-
55
130
-
410
-
740
Power Supply
Powe2r 4AWdapter
Powe6r 5AWdapter
180W Fixed
25W Fixed
480W Fixed
60W Fixed
900W Fixed
Power Source
12VDCPower Adapter
54VDCPower Adapter
100-240VAC50-60Hz
100-240VAC50-60Hz
100-240VAC50-60Hz
100-240VAC50-60Hz
100-240VAC50-60Hz
Power Csumption (Maximum)
5.7W
63.2W
152.8W
24.4W
500.4W
44W
885W
Current
2.0A
1.2A
2.5A
0.7A
7.0A
1.5A
12.0A
Heat Dissipation (BTU)
19.4
249.5
521.1
122.8
1706.4
184.2
1807.3
Min Power Cord Amperage
10 Amp
10 Amp
10 Amp
10 Amp
10 Amp
10 Amp
12 Amp
Operating Temperature
0 - 40°C
0 - 40°C
0 - 40°C
0 - 40°C
0 - 40°C
0 - 40°C
0 - 40°C
Storage Temperature
-40 - 70°C
-40 - 70°C
-40 - 70°C
-40 - 70°C
-40 - 70°C
-40 - 70°C
-40 - 70°C
Humidity
10-95% R.H
10-95% R.H
10-95% R.H
10-95% R.H
10-95% R.H
10-95% R.H
10-95% R.H
Dimensions (W x H x D)
240 x 105 x27mm
240 x 105 x27mm
330 x 230 x44mm
440 x 200 x44mm
440 x 260 x44mm
440 x 260 x44mm
440 x 310 x44mm
Weight
0.62 Kg
0.64 Kg
2.5 Kg
1.8 Kg
3.9 Kg
3.2 Kg
4.8 Kg
RJ-45 Serial Console
-
-
-
1
1
1
1
Form Factor
Desktop
Desktop
Desktop
1U
1U
1U
1U
MTBF @25°C in Hours
1,387,712
548,553
180,837
1,273,866
157,763
222,974
100,645
MTBF @25°C in Years
158
62
20
145
18
25
11
(SDwuitpclehxi)n ign CGabppascity
20
20
24
128
128
176
176
VLANs
4096
4096
4096
4096
4096
4096
4096
Regulatory Model
APL51-0E1
APL52-0E2
1RK43-0E3
1RK44-0E4
1RK45-0E5
1RK46-0E6
1RK47-0E7
Regulatory Approvals
FCC Class A, ICES Class A, CE (EMC Class A, LVD, RoHS), C-Tick, VCCI Class A, UL cUL, TUV/GS, CB, Mexico UL DGN notification,WEEE, REACH, BSMI, KCC/MSIP, ANATEL
Wireless Network Manager:
Overview:
Scalable for any size organization, SonicWall Wireless Network Manager (WNM) is an intuitive, centralized wireless and switching network management system. It delivers rich analytics, powerful features and easy onboarding from a single pane of glass.
Its cloud-based infrastructure simplifies access, control and troubleshooting by unifying multiple tenants, locations and zones. WNM supports thousands of SonicWave APs and SonicWall Switches, without the cost of complex overlay management systems.
Highlights:
Supports private pre-shared keys (PPSK)
SAML authentication
DHCP fingerprinting
Content Filtering Service support
Integrated management of SonicWave APs and SonicWall Switches
Unified visibility and control via cloud-based singlepane-of-glass dashboard
Seamless integration with Capture Security Center
Unified policy configuration for wired and wireless network
Zero-Touch Deployment for rapid onboarding and provisioning
Automatic firmware and security updates
Real-time, rich data analytics
Detailed reporting, logs and alerts
Reliable operation, cloud stability and security
Powerful network topology mapping
Integrated advanced site survey tool
Intuitive interface
Lower TCO
Benefits:
Scalability
This flexible solution manages small site locations to large networks with multiple tenants, locations and zones so you can scale at your own pace.
Accessibility
Simplified cloud management and easy Zero-Touch Deployment allow you to enjoy reduced complexity without costly overlay management systems or IT personnel.
Analytics
Set unified policy for your wired and wireless network and gain rich analytics and insights on your network.
Visibility
With centralized visibility and control (including automated monitoring and reporting), you can manage network deployment and performance 24/7.
Features:
Single-Pane-of-Glass Management
WNM lets you easily manage global networks from a single pane of glass. An integrated part of the SonicWall Capture Security Center ecosystem, its intuitive dashboard offers unified visibility and control. Network hierarchy allows you to view single policies created at the tenant level that are pushed down to various locations and zones. Drill down on managed devices for granular data. WNM is highly scalable, from a single site to global enterprise networks with tens of thousands of managed devices supporting multiple tenants.
DHCP Fingerprinting
With the proliferation of BYOD (Bring Your Own Device) in today's workplace, network administrators are challenged with dynamically detecting and identifying these devices to ensure they're compliant. DHCP fingerprinting is a technique for identity verification that allows devices to be tracked and, most importantly, blocks those that are not allowed.
Content Filtering Service
Keeping your network protected from malware, viruses and infections is critically important. Content Filtering Service (CFS) does just that by inspecting web page access and taking action when a threat is detected. CFS provides administrators with the tools to create and apply policies that allow or deny access to sites based on individual or group identity, or by time of day, for over 56 predefined categories.
Advanced Analysis Tools
Conducting a wireless site survey before deploying access points can help ensure performance and productivity. WNM's WiFi Planner tool helps you strategically deploy access points to optimize Wi-Fi user experience and avoid costly mistakes. WiFi Planner analyzes placement, building materials, power, signal strength, channel width and radio bands. This lets you optimize coverage in new or existing networks using the fewest number of APs. Auto-channel assignment prevents interference. WNM's Topology tool provides network topology maps and managed device statistics.
Lower TCO
Cloud-based WNM drives down total cost of ownership (TCO) by shifting capital expenditures (CAPEX) to operating expense (OPEX). WNM cuts out the cost and maintenance of redundant hardware-based controllers and optimizes data center rack space. Its intuitive interface reduces training and administrative overhead costs.
Pre-Shared Key
Private pre-shared keys (PPSK) are an important tool for protecting networks. Each one consists of a long, random series of combined numbers and letters that is generated when a device joins a network. Because each client device has its own unique pre-shared key, PPSK is an effective way to secure a guest network or to deactivate an individual's access to the network when the individual leaves an organization. PPSK allows for easier use and management of the network, compatibility for legacy clients, and support for different VLANs
SAML Authentication Support
Security Assertion Markup Language (SAML) is a way to authenticate data between parties, particularly between an identity provider and a service provider. It allows a user to access multiple web applications using a single set of login credentials. In short, SAML is a way to tell external applications that a user is who they say they are. This single sign-on results in a better user experience and can also result in improved security, because the identity provider – not the service provider – is responsible for storing user credentials.
Reliable Operation
WNM delivers the stability and reliability of the cloud. In case an internet outage, access points and switches can continue to work without WNM, ensuring business continuity. Two-factor authentication and packet encryption heighten security, while automatic firmware and security updates keep managed devices up to date. WNM allows admins to selectively apply production, beta or patch firmware on each managed device as needed, and enables automatic sending of reports to multiple recipients simultaneously.
Zero-Touch Deployment
With Zero-Touch Deployment, your SonicWall APs and switches are up and running in minutes. And you can register and onboard them from anywhere with the SonicExpress app.
Documentation:
Download the Wireless Network Manager Datasheet (PDF).
Pricing Notes:
Pricing and product availability subject to change without notice.
SonicWall Products
SonicWall Switches
SonicWall Switch SWS12-8POE
SonicWall Switch SWS12-8POE with 8 ports, 2 SFP, PoE, compact form factor, energy-efficient design
Reduce price! This is a promotional item, please add to cart to see your final price
#02-SSC-2463
List Price: $379.95
Add to Cart for Pricing
SonicWall Switch Support Bundles
SonicWall Switch SWS12-8POE with Support 1 Year
Reduce price! This is a promotional item, please add to cart to see your final price
#02-SSC-8367
List Price: $429.95
Add to Cart for Pricing
SonicWall Switch SWS12-8POE with Support 3 Year
Reduce price! This is a promotional item, please add to cart to see your final price
#02-SSC-8368
List Price: $484.95
Add to Cart for Pricing
24X7 Support for SonicWall Switches
24X7 Support for SonicWall Switch SWS12-8POE 1 Year
#02-SSC-4638
List Price: $55.00
Add to Cart for Pricing
24X7 Support for SonicWall Switch SWS12-8POE 3 Year
#02-SSC-4725
List Price: $125.00
Add to Cart for Pricing
24X7 Support for SonicWall Switch SWS12-8POE 5 Year
#02-SSC-4778
List Price: $205.00
Add to Cart for Pricing
Rackmounts for SonicWall Products
Rack Mount Kit for SonicWall SWS12-8 & SWS12-8POE
#RM-SW-T8
List Price: $159.00
Add to Cart for Pricing
Wireless Network Management
WIRELESS NETWORK MANAGEMENT for SWS12-8POE, 1 Year
#02-SSC-8801
List Price: $25.00
Add to Cart for Pricing
WIRELESS NETWORK MANAGEMENT for SWS12-8POE, 3 Year
#02-SSC-8803
List Price: $45.00
Add to Cart for Pricing
WIRELESS NETWORK MANAGEMENT for SWS12-8POE, 5 Year
#02-SSC-8805
List Price: $80.00
Add to Cart for Pricing
Accessories
10Gb-SR SFP+ Short Reach Fiber Module Multi-Mode No Cable
#01-SSC-9785
List Price: $195.00
Add to Cart for Pricing
10Gb-LR SFP+ Long Reach Fiber Module Single-Mode No Cable
#01-SSC-9786
List Price: $245.00
Add to Cart for Pricing
1Gb-SX SFP Short Haul FiberModule Multi-Mode No Cable
#01-SSC-9789
List Price: $125.00
Add to Cart for Pricing
1Gb-LX SFP Long Haul Fiber Module Single-Mode No Cable
#01-SSC-9790
List Price: $150.00
Add to Cart for Pricing
1Gb-RJ45 SFP Copper Module No Cable
#01-SSC-9791
List Price: $175.00
Add to Cart for Pricing