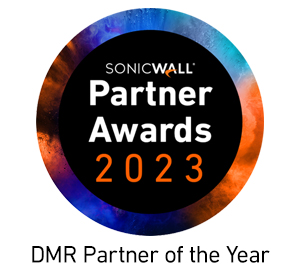 SonicWall Switch SWS12-8POE

8 ports, 2 SFP, PoE, compact form factor, energy-efficient design

SonicWall Products
SonicWall Switches
SonicWall Switch SWS12-8POE
SonicWall Switch SWS12-8POE with 8 ports, 2 SFP, PoE, compact form factor, energy-efficient design
#02-SSC-2463
List Price: $379.95
Add to Cart for Pricing
SonicWall Switch Support Bundles
SonicWall Switch SWS12-8POE with Support 1 Year
#02-SSC-8367
List Price: $429.95
Add to Cart for Pricing
SonicWall Switch SWS12-8POE with Support 3 Year
#02-SSC-8368
List Price: $484.95
Add to Cart for Pricing
24X7 Support for SonicWall Switches
24X7 Support for SonicWall Switch SWS12-8POE 1 Year
#02-SSC-4638
List Price: $55.00
Add to Cart for Pricing
24X7 Support for SonicWall Switch SWS12-8POE 3 Year
#02-SSC-4725
List Price: $125.00
Add to Cart for Pricing
24X7 Support for SonicWall Switch SWS12-8POE 5 Year
#02-SSC-4778
List Price: $205.00
Add to Cart for Pricing
Rackmounts for SonicWall Products
Rack Mount Kit for SonicWall SWS12-8 & SWS12-8POE
#RM-SW-T8
List Price: $159.00
Add to Cart for Pricing
Click here to jump to more pricing!
Overview:
The SonicWall Switch delivers high-speed network switching while providing unparalleled performance and manageability through SonicWall firewalls or Wireless Network Manager. Its unified security posture, high port density, Power over Ethernet (PoE) options and gigabit or 10 gigabit performance capabilities makes it ideal for small and medium-sized business (SMB), and Software-Defined Branch (SD-Branch) deployments. This enables businesses – big or small, to undergo digital transformation and keep pace with the changing network and security landscape.
The SonicWall Secure SD-Branch solution transforms user experience at branch office locations by delivering a unified platform that enables branches to be deployed in minutes and delivers unified visibility and threat detection from a single pane of glass. SonicWall SD-Branch components consist of SonicWall next-generation firewalls with Secure SD-WAN, Capture Security Center with Zero-Touch Deployment, SonicWall Switches, SonicWave access points (AP), Capture Client and Cloud App Security. With the flexibility that SonicWall Secure SD-Branch offers, organizations can now be more agile, open and cloud-centric.
An integral part of the next-generation branch transformation, the SonicWall Switches are managed via firewalls or Wireless Network Manager (WNM) for unified, single-pane-of-glass management. By tightly integrating with SonicWall firewalls and SonicWave Access Points, the solution benefits from unified security posture and offers an end-to-end security solution that simplifies deployment, management and troubleshooting. This ensures seamless security and eliminates gap in security posture that may arise with third party switches.
In conjunction, the SonicWall Switch offers Zero-Touch Deployment capability with the ability to quickly roll out devices across branches spread out globally. Admins can quickly and securely deploy these switches at new locations without requiring any costly on-site IT personnel.
Packed with features, these switches are available in a compact form factor with an energy-efficient design. Available in seven models, ranging from eight to 48, with gigabit and 10 gigabit Ethernet ports, the switches work seamlessly with SonicWall next-generation firewalls and SonicWave APs to create a high performance secure network. The Ethernet ports provide PoE options to power on various devices such as APs, VOIP phones and IP cameras.
Prioritize certain traffic on the network such as VOIP for video conferences while working from home, with features such as QoS. Easily segment devices in the network and maintain compliance. Segregating can be accomplished by creating policies or VLANs. Features such as 802.1X authentication allows business to maintain PCI compliance.
Highlights:
SD-Branch ready
Firewall and WNM managed
Zero-Touch Deployment
Unified security posture
Layer 2 switching
10 gigabit or 1 gigabit support
8/10/24/48-port models
Various PoE options
QoS support
Segmentation and compliance
Compact form factor
Energy-efficient design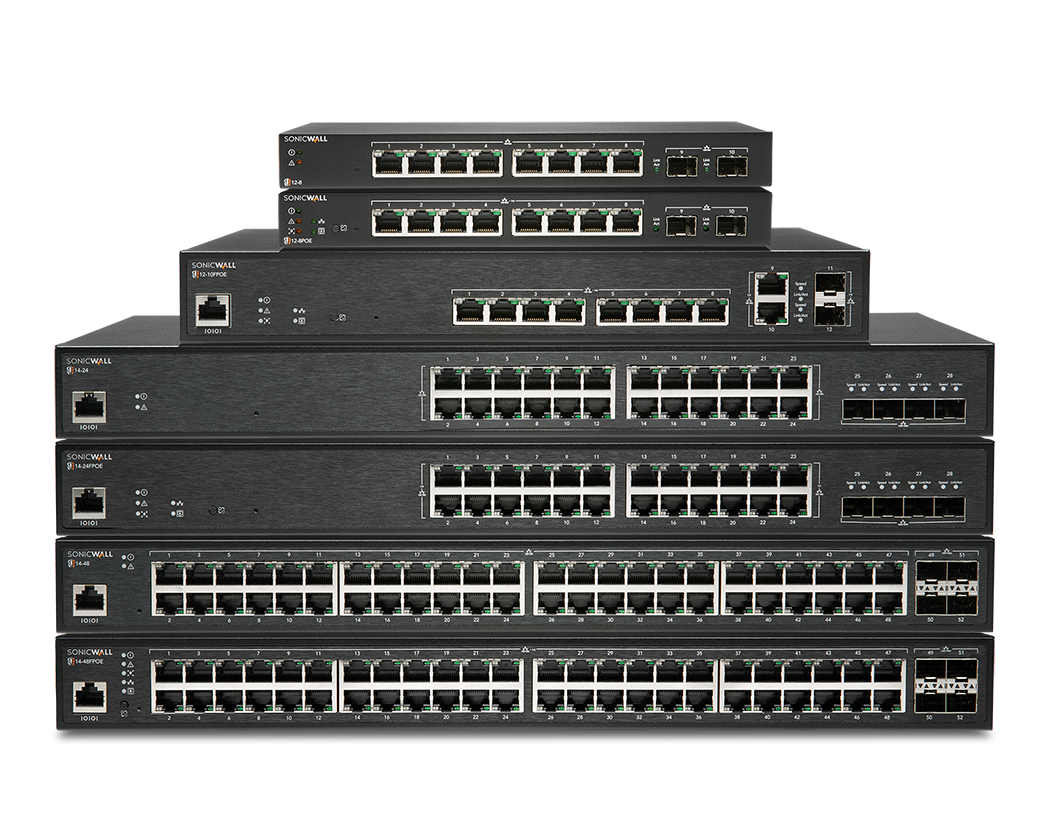 ---
| Models: | SWS12-8 | SWS12-8POE | SWS12-10FPOE | SWS14-24 | SWS14-24FPOE | SWS14-48 | SWS14-48FPOE |
| --- | --- | --- | --- | --- | --- | --- | --- |
| Number of GB Ethernet Ports | 8 | 8 | 10 | 24 | 24 | 48 | 48 |
| Number of SFP/SFP+ Ports | 2 SFP | 2 SFP | 2 SFP | 4 SFP+ | 4 SFP+ | 4 SFP+ | 4 SFP+ |
| PoE Support | Non-PoE | 802.3af | 802.3at | Non-PoE | 802.3at | Non-PoE | 802.3at |
Pricing Notes:
Pricing and product availability subject to change without notice.
SonicWall Products
SonicWall Switches
SonicWall Switch SWS12-8POE
SonicWall Switch SWS12-8POE with 8 ports, 2 SFP, PoE, compact form factor, energy-efficient design
#02-SSC-2463
List Price: $379.95
Add to Cart for Pricing
SonicWall Switch Support Bundles
SonicWall Switch SWS12-8POE with Support 1 Year
#02-SSC-8367
List Price: $429.95
Add to Cart for Pricing
SonicWall Switch SWS12-8POE with Support 3 Year
#02-SSC-8368
List Price: $484.95
Add to Cart for Pricing
24X7 Support for SonicWall Switches
24X7 Support for SonicWall Switch SWS12-8POE 1 Year
#02-SSC-4638
List Price: $55.00
Add to Cart for Pricing
24X7 Support for SonicWall Switch SWS12-8POE 3 Year
#02-SSC-4725
List Price: $125.00
Add to Cart for Pricing
24X7 Support for SonicWall Switch SWS12-8POE 5 Year
#02-SSC-4778
List Price: $205.00
Add to Cart for Pricing
Rackmounts for SonicWall Products
Rack Mount Kit for SonicWall SWS12-8 & SWS12-8POE
#RM-SW-T8
List Price: $159.00
Add to Cart for Pricing
Wireless Network Management
WIRELESS NETWORK MANAGEMENT for SWS12-8POE, 1 Year
#02-SSC-8801
List Price: $25.00
Add to Cart for Pricing
WIRELESS NETWORK MANAGEMENT for SWS12-8POE, 3 Year
#02-SSC-8803
List Price: $45.00
Add to Cart for Pricing
WIRELESS NETWORK MANAGEMENT for SWS12-8POE, 5 Year
#02-SSC-8805
List Price: $80.00
Add to Cart for Pricing
Accessories
10Gb-SR SFP+ Short Reach Fiber Module Multi-Mode No Cable
#01-SSC-9785
List Price: $195.00
Add to Cart for Pricing
10Gb-LR SFP+ Long Reach Fiber Module Single-Mode No Cable
#01-SSC-9786
List Price: $245.00
Add to Cart for Pricing
1Gb-SX SFP Short Haul FiberModule Multi-Mode No Cable
#01-SSC-9789
List Price: $125.00
Add to Cart for Pricing
1Gb-LX SFP Long Haul Fiber Module Single-Mode No Cable
#01-SSC-9790
List Price: $150.00
Add to Cart for Pricing
1Gb-RJ45 SFP Copper Module No Cable
#01-SSC-9791
List Price: $175.00
Add to Cart for Pricing