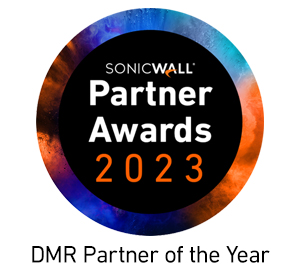 SonicWall Cloud App Security

Next-Gen Security for Office 365, G Suite and Other SaaS apps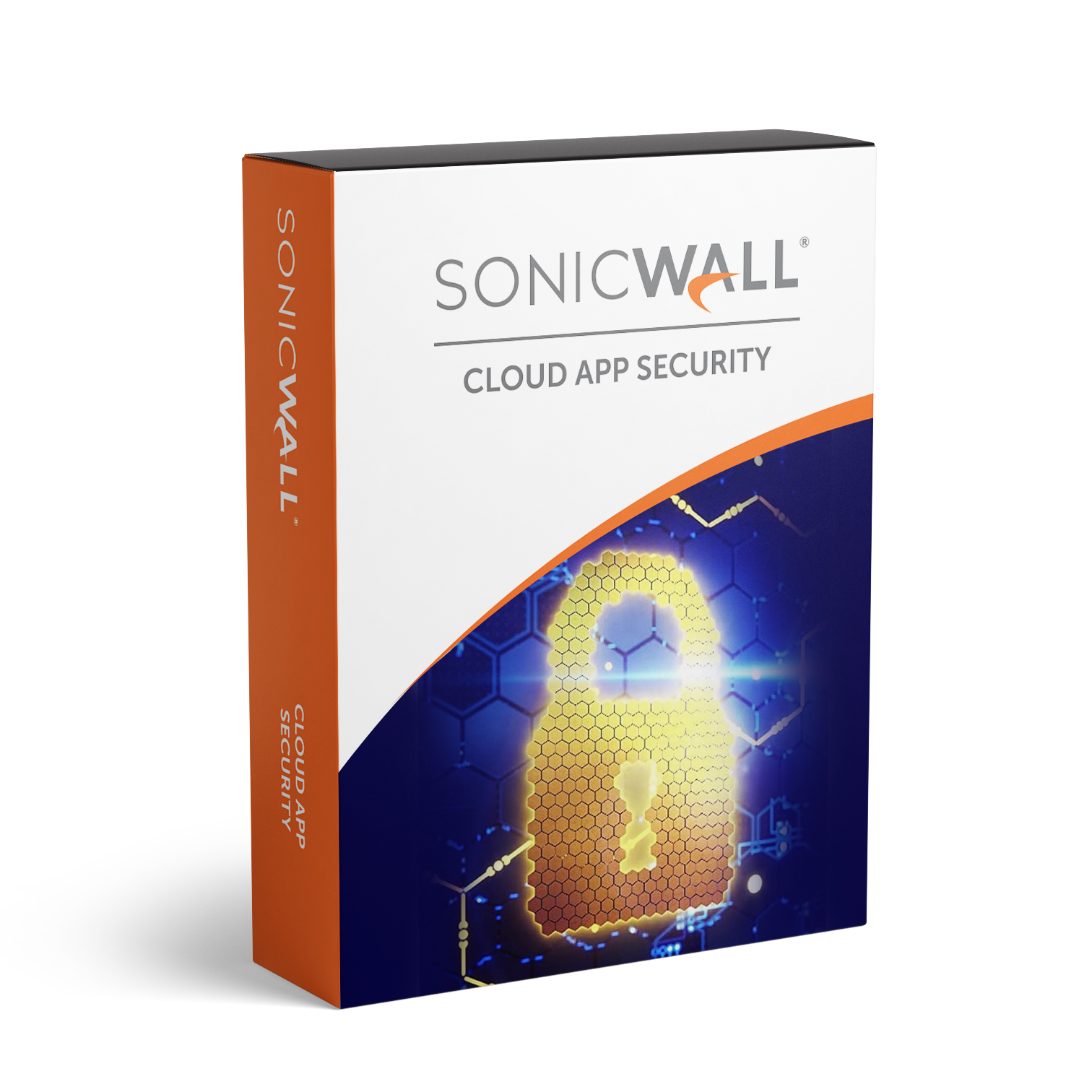 SonicWall Products
Cloud App Security Advanced
SonicWall Cloud App Security Advanced 5 - 24 Users 1 Year
Cloud App Security Advanced package includes ATP and DLP for up to 10 SaaS apps for 5-24 Users 1 Year
#02-SSC-2122
List Price: $39.00
Add to Cart for Pricing
SonicWall Cloud App Security Advanced 25 - 49 Users 1 Year
Cloud App Security Advanced package includes ATP and DLP for up to 10 SaaS apps for 25-49 Users 1 Year
#02-SSC-2128
List Price: $38.60
Add to Cart for Pricing
SonicWall Cloud App Security Advanced 50 - 99 Users 1 Year
Cloud App Security Advanced package includes ATP and DLP for up to 10 SaaS apps for 50-99 Users 1 Year
#02-SSC-2132
List Price: $38.20
Add to Cart for Pricing
SonicWall Cloud App Security Basic
SonicWall Cloud App Security Basic 5 - 24 Users 1 Year
Cloud App Security Basic package includes ATP for Office 365 or G Suite for 5-24 Users 1 Year
#02-SSC-2124
List Price: $25.00
Add to Cart for Pricing
SonicWall Cloud App Security Basic 25 - 49 Users 1 Year
Cloud App Security Basic package includes ATP for Office 365 or G Suite for 25-49 Users 1 Year
#02-SSC-2130
List Price: $24.70
Add to Cart for Pricing
SonicWall Cloud App Security Basic 50 - 99 Users 1 Year
Cloud App Security Basic package includes ATP for Office 365 or G Suite for 50-99 Users 1 Year
#02-SSC-2134
List Price: $24.40
Add to Cart for Pricing
SonicWall Zero Touch Deployment
SonicWall Zero Touch Deployment (10 or More Units)
SonicWall Zero Touch Deployment to be used with deployment of ten units or more
#02-SSC-0965
List Price: $100.00
Add to Cart for Pricing
More pricing below, click here!
Overview:
SonicWall Cloud App Security offers next-gen security for your users and data within cloud applications, including email, messaging, file sharing and file storage. For organizations adopting SaaS applications, SonicWall Cloud App Security delivers best-in-class security and a seamless user experience.
Embrace Cloud Applications Without Fear
Get visibility, data security, advanced threat protection and compliance for cloud usage
Stop targeted phishing, impersonation and account takeover attacks in Office 365 and G Suite
Identify breaches and security gaps by analyzing real time and historical events
Deliver the best user experience with out-of-band traffic analysis through APIs and log collection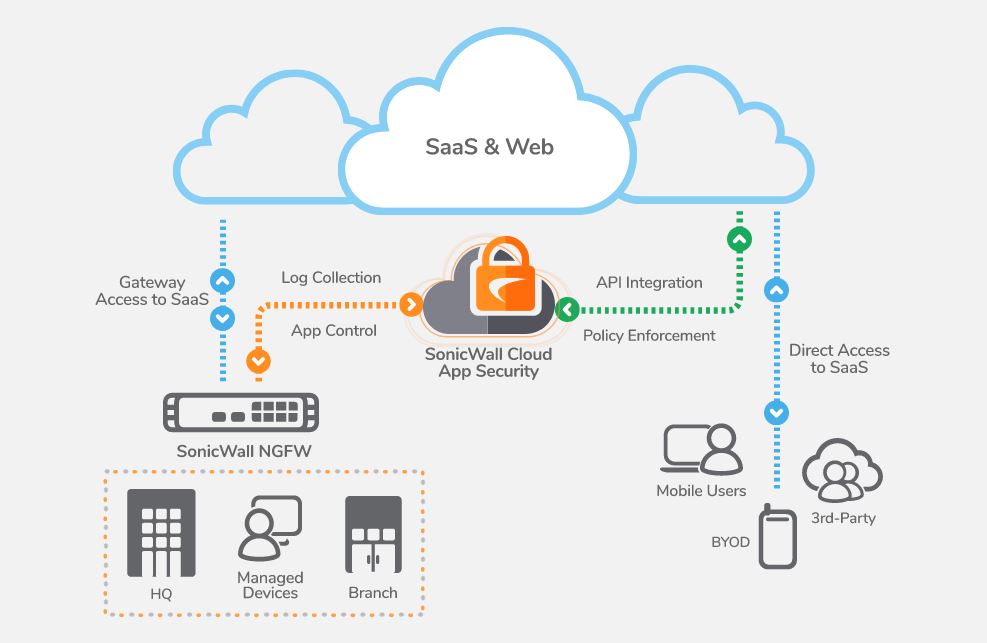 Comprehensive Protection for Office 365 and G Suite
Get powerful anti-phishing, attachment sandboxing and advanced URL protection
Scan inbound, outbound and internal email in Exchange Online and Gmail
Prevent confidential file uploads and unauthorized sharing on OneDrive and Google Drive
Protect against account takeovers (ATO), insider threats, compromised credentials
Secure Your Sanctioned Apps
Get granular visibility and control through native API integrations
Identify compromised accounts using machine learning
Set consistent data security policies across sanctioned applications
Protect SaaS environments against ransomware and zero-day malware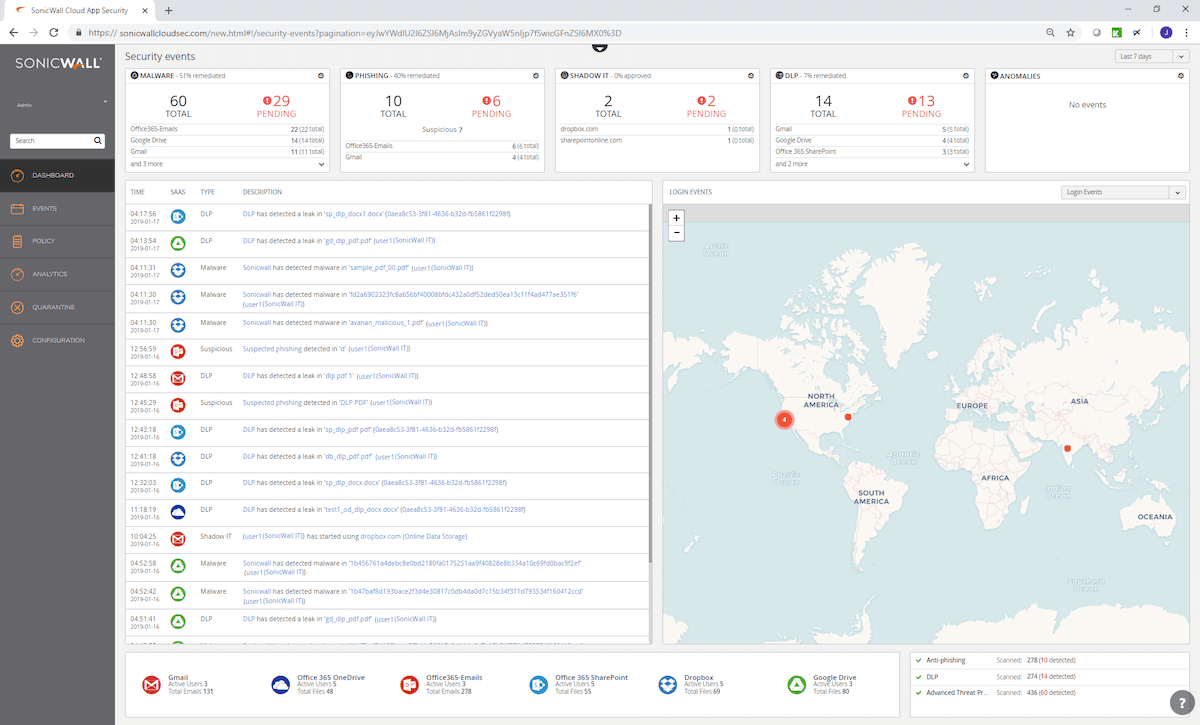 Discover Shadow I.T.
Automate cloud discovery when deployed with SonicWall firewalls
Monitor cloud usage in real time with an intuitive dashboard view
Set policies to block unsanctioned applications based on risk score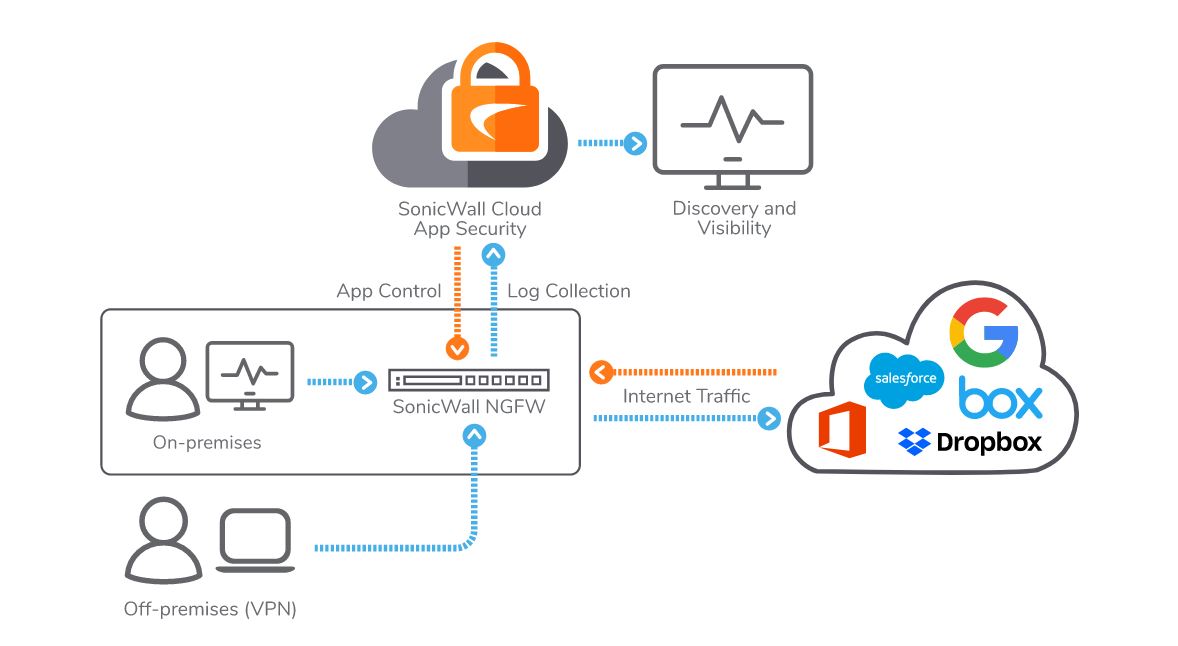 Features & Benefits:
Synchronous threat protection
Integration with the SonicWall Capture Cloud Platform security framework uniquely enables all SonicWall security solutions to work together for synchronous threat management. This allows CAS to leverage the SonicWall Capture ATP service, the only threat detection offering that combines multi-layer sandboxing, to analyze suspicious attachments and files. Threats revealed are used to create countermeasures at one part of the defense chain, which then immediately benefits all other parts of the defense ecosystem in real time. The entire process significantly reduces the window of exposure and false positives.
Scan all email traffic and embedded content
CAS works seamlessly with Office 365 and G-Suite built-in security via API and scans any messages including inbound, outbound, and internal emails that bypasses preceding security filters. When using inline protection, no email, links and/or attachments can reach the inbox until CAS has scanned and determined they are 100% harmless.

Email Protection
In-line threat protection
Policy-based configuration
Machine-learning for anti-phishing
Anti-spoofing
Office 365 EOP Anti-Spam augmentation
Brand impersonation protection
User impersonation detection
Business Email Compromise (BEC) protection
Page emulation analysis
URL rewriting and click-time analysis
Attachment sandboxing
Post-delivery search, quarantine and remediation
Post-detection alerts
Forensic analysis
Analytics
Reporting dashboard
One-click deployment
SaaS Security
Account takeover (ATO) and insider threats protection
Zero-day malware protection
Active-form analysis
Shadow SaaS Monitoring
Data Security
Date leak protection (DLP)
Policy-based Office 365 message encryption
Data classification
Compliance
Compliance templates
Audit-ready reports
Compliance enforcement
Videos:
How to Protect Office 365 Suite with SonicWall Cloud App Security
How to Protect G Suite with SonicWall Cloud App Security
Specifications:
| SonicWall Cloud App Security | CLOUD APP SECURITY - BASIC | CLOUD APP SECURITY - ADVANCED |
| --- | --- | --- |
| Unified Cloud Management (Capture Security Center) | • | • |
| Supported Cloud Apps | Select 1 SaaS App (Office 365 or G Suite) | Choose up-to 10 SaaS Apps |
| Anti-Phishing for O365 Mail or Gmail | • | • |
| Capture ATP* for Email Attachments | • | • |
| Advanced URL Protection | • | • |
| Capture ATP* for files stored in SaaS | • | • |
| Account Takeover Protection | • | • |
| Data Loss Protection | — | • |
| Shadow IT Visibility** | — | • |
*SonicWall Capture ATP includes Real-Time Deep Memory Inspection™ (RTDMI™)

**Requires SonicWall NGFW
Pricing Notes:
Pricing and product availability subject to change without notice.
SonicWall Products
Cloud App Security Advanced
SonicWall Cloud App Security Advanced 5 - 24 Users 1 Year
Cloud App Security Advanced package includes ATP and DLP for up to 10 SaaS apps for 5-24 Users 1 Year
#02-SSC-2122
List Price: $39.00
Add to Cart for Pricing
SonicWall Cloud App Security Advanced 25 - 49 Users 1 Year
Cloud App Security Advanced package includes ATP and DLP for up to 10 SaaS apps for 25-49 Users 1 Year
#02-SSC-2128
List Price: $38.60
Add to Cart for Pricing
SonicWall Cloud App Security Advanced 50 - 99 Users 1 Year
Cloud App Security Advanced package includes ATP and DLP for up to 10 SaaS apps for 50-99 Users 1 Year
#02-SSC-2132
List Price: $38.20
Add to Cart for Pricing
SonicWall Cloud App Security Basic
SonicWall Cloud App Security Basic 5 - 24 Users 1 Year
Cloud App Security Basic package includes ATP for Office 365 or G Suite for 5-24 Users 1 Year
#02-SSC-2124
List Price: $25.00
Add to Cart for Pricing
SonicWall Cloud App Security Basic 25 - 49 Users 1 Year
Cloud App Security Basic package includes ATP for Office 365 or G Suite for 25-49 Users 1 Year
#02-SSC-2130
List Price: $24.70
Add to Cart for Pricing
SonicWall Cloud App Security Basic 50 - 99 Users 1 Year
Cloud App Security Basic package includes ATP for Office 365 or G Suite for 50-99 Users 1 Year
#02-SSC-2134
List Price: $24.40
Add to Cart for Pricing
SonicWall Zero Touch Deployment
SonicWall Zero Touch Deployment (10 or More Units)
SonicWall Zero Touch Deployment to be used with deployment of ten units or more
#02-SSC-0965
List Price: $100.00
Add to Cart for Pricing
Cloud App Security Advanced - 1 Year
SonicWall Cloud App Security Advanced 100 - 249 Users 1 Year
Cloud App Security Advanced package includes ATP and DLP for up to 10 SaaS apps for 100-249 Users 1 Year
#02-SSC-2136
List Price: $37.80
Add to Cart for Pricing
SonicWall Cloud App Security Advanced 250 - 499 Users 1 Year
Cloud App Security Advanced package includes ATP and DLP for up to 10 SaaS apps for 250-499 Users 1 Year
#02-SSC-2140
List Price: $37.40
Add to Cart for Pricing
SonicWall Cloud App Security Advanced 500 - 999 Users 1 Year
Cloud App Security Advanced package includes ATP and DLP for up to 10 SaaS apps for 500-999 Users 1 Year
#02-SSC-2144
List Price: $36.90
Add to Cart for Pricing
SonicWall Cloud App Security Advanced 1000 - 4999 Users 1 Year
Cloud App Security Advanced package includes ATP and DLP for upto 10 SaaS apps for 1000-4999 Users 1 Year
#02-SSC-2148
List Price: $36.40
Add to Cart for Pricing
SonicWall Cloud App Security Advanced 5000 - 9999 Users 1 Year
Cloud App Security Advanced package includes ATP and DLP for upto 10 SaaS apps for 5000-9999 Users 1 Year
#02-SSC-2152
List Price: $35.70
Add to Cart for Pricing
SonicWall Cloud App Security Advanced 10000+ Users 1 Year
Cloud App Security Advanced package includes ATP and DLP for upto 10 SaaS apps for 10000+ Users 1 Year
#02-SSC-2156
List Price: $35.00
Add to Cart for Pricing
Cloud App Security Basic - 1 Year
SonicWall Cloud App Security Basic 100 - 249 Users 1 Year
Cloud App Security Basic package includes ATP for Office 365 or G Suite for 100-249 Users 1 Year
#02-SSC-2138
List Price: $24.10
Add to Cart for Pricing
SonicWall Cloud App Security Basic 250 - 499 Users 1 Year
Cloud App Security Basic package includes ATP for Office 365 or G Suite for 250-499 Users 1 Year
#02-SSC-2142
List Price: $23.80
Add to Cart for Pricing
SonicWall Cloud App Security Basic 500 - 999 Users 1 Year
Cloud App Security Basic package includes ATP for Office 365 or G Suite for 500-999 Users 1 Year
#02-SSC-2146
List Price: $23.40
Add to Cart for Pricing
SonicWall Cloud App Security Basic 1000 - 4999 Users 1 Year
Cloud App Security Basic package includes ATP for Office 365 or G Suite for 1000-4999 Users 1 Year
#02-SSC-2150
List Price: $23.00
Add to Cart for Pricing
SonicWall Cloud App Security Basic 5000 - 9999 Users 1 Year
Cloud App Security Basic package includes ATP for Office 365 or G Suite for 5000-9999 Users 1 Year
#02-SSC-2154
List Price: $22.50
Add to Cart for Pricing
SonicWall Cloud App Security Basic 10000+ Users 1 Year
Cloud App Security Basic package includes ATP for Office 365 or G Suite for 10000+ Users 1 Year
#02-SSC-2158
List Price: $22.00
Add to Cart for Pricing