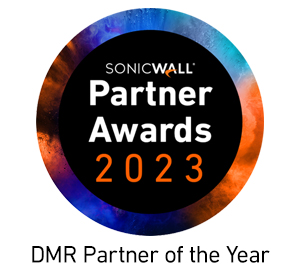 SonicWall SMA Licenses

Secure Mobile Access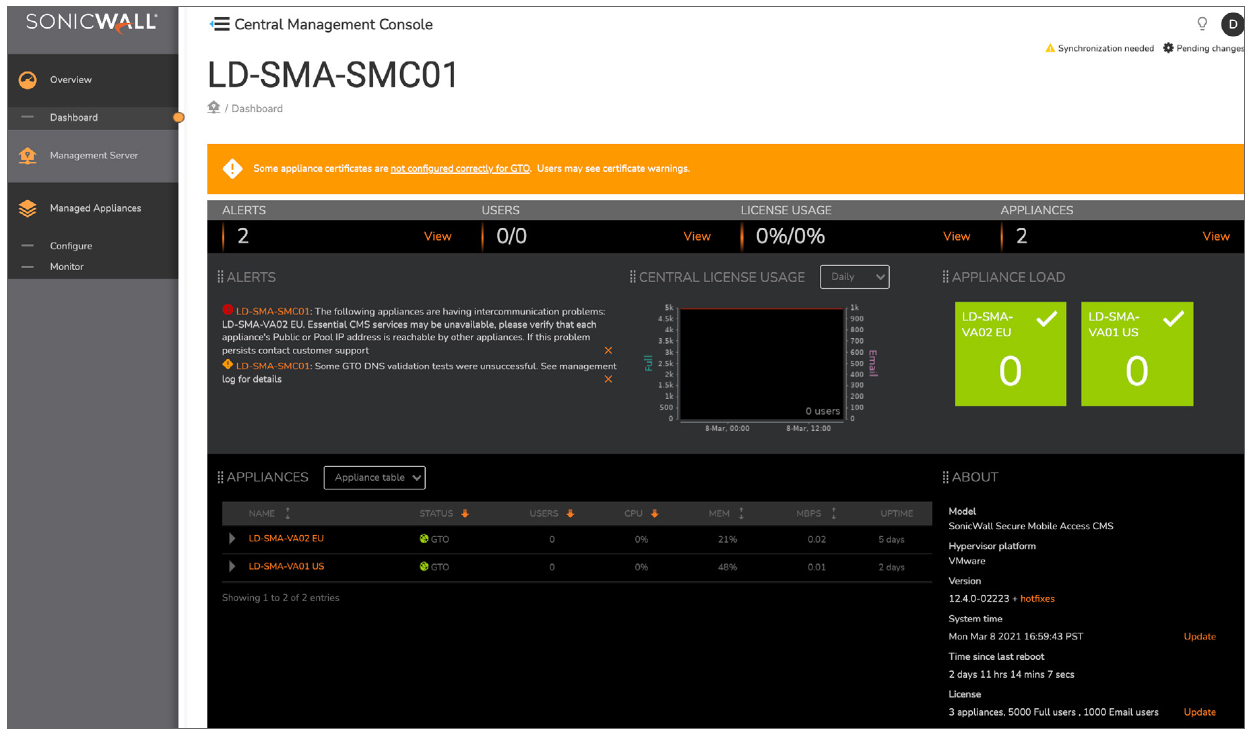 SonicWall Products
CMS appliance licenses (subscription)
SMA CMS Base + 3 Appliances License Used with Subscription User Licenses
Includes license for 3 appliances and 24x7 Support for 5 years
#01-SSC-8535
Get a Quote!
SMA CMS 100 Appliances License 1 Year Used with Subscription User Licenses
Includes license for up to 100 appliances and 24x7 Support for 1 year
#01-SSC-8536
List Price: $2,000.00
Add to Cart for Pricing
More pricing below, click here!
Overview:
SonicWall Central Management Server (CMS) provides a powerful and intuitive solution to centrally manage and rapidly deploy SonicWall Secure Mobile Access (SMA) solutions. For mid-size or large enterprises, CMS streamlines security policy management and appliance deployment, minimizing administration overhead. For Service Providers, CMS simplifies the security management and creates additional revenue opportunities. Administrators can cluster CMS solutions for added redundancy and scalability.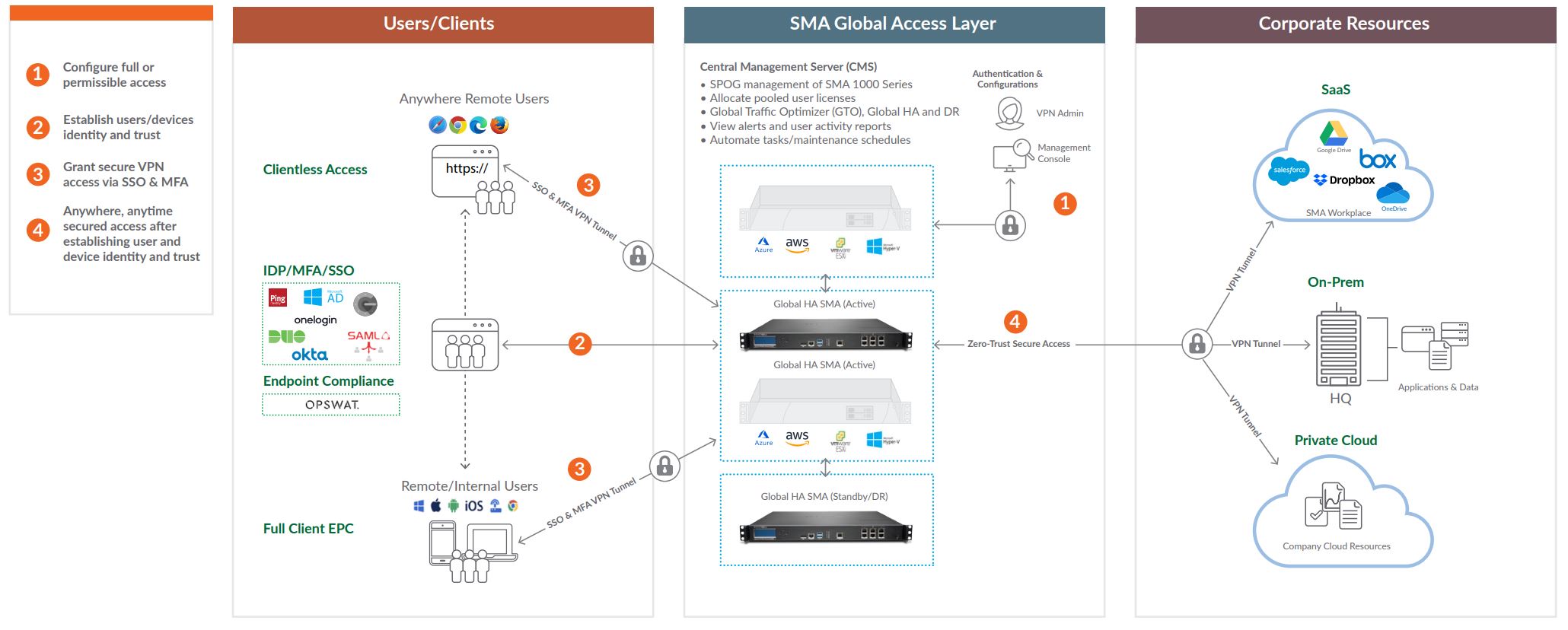 Highlights
Deliver services with near-zero downtime.
Decrease capital costs with high availability clusters that work in combination of physical and virtual appliances.
Provide zero-impact failover to users across data centers in a global mesh network.
Simplify and manage SSL certificates, FIPS licenses and policy roll-outs across appliances or selected appliances.
Customize the visual dashboards to monitor real-time and historical events.
Deploy CMS in you private cloud as a virtual appliance, or on a public cloud using bring your own license (BYOL) on Amazon Web Services (AWS) and Microsoft Azure.
Supports up to 100 SMA 1000 appliances and 1 million concurrent users (CCU).
Reduce maintenance overhead by automating routine tasks and scheduling activities.
Get actionable insights you need to make the right decisions.
Control and predict costs with ease, using simple subscription licensing model.
---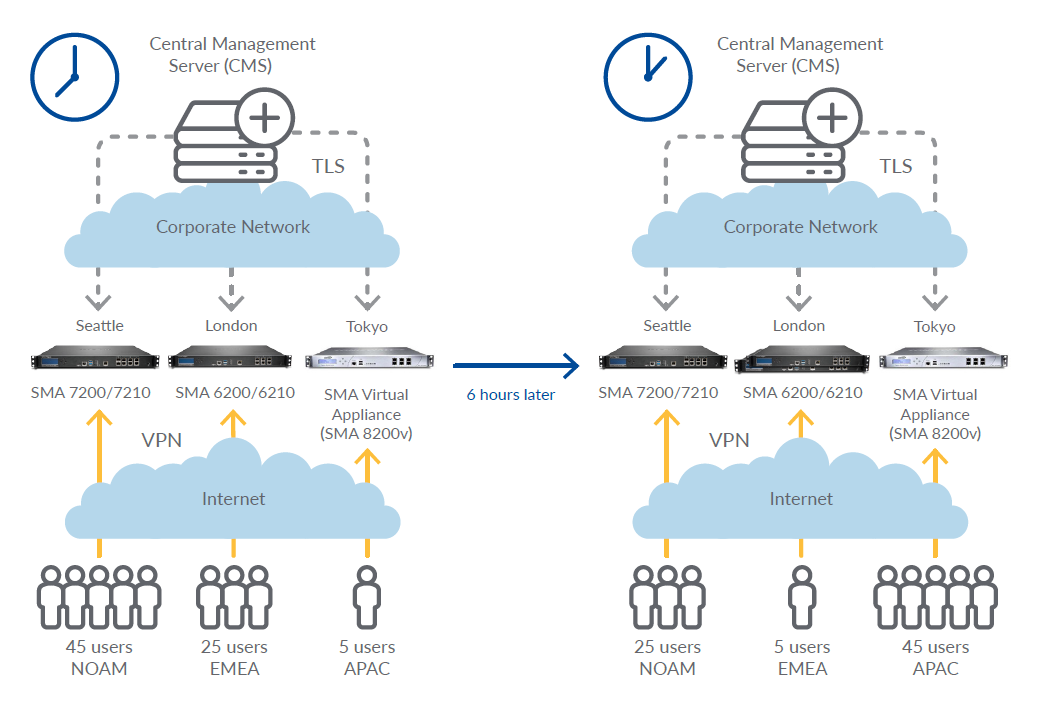 Central User Licenses
User licenses no longer have to be applied to individual SMA appliances. Central Management Server (CMS) can manage a pool of user licenses and dynamically allocate them among managed appliances. The CMS distributes the pool of licenses between the managed appliances based on demand in real-time. In the event that a managed appliance is unable to communicate with CMS, the 'orphaned' appliance can run for 7 days on its leased license and use 100% of CMS user licenses.
Customers with appliances that are globally distributed can benefit from the fluctuating demands for user licenses due to time differences. The CMS reallocates licenses to managed appliances where user demands have peaked from appliances in a different geographic area, where usage has fallen due to off-work/night hours. Customers with appliances that are behind load balancers can benefit from the dynamic distribution of licenses across managed appliances, as the load balancer distributes connection requests across the managed appliances.
SonicWall provides organizations the flexibility to choose the licensing option that best suits their needs. Central user licenses are available as a time-limited subscription option that includes 24X7 support, or as a perpetual option that requires an active termed support contract. For organizations that want a licensing option for specific usage, SonicWall offers tiered options with ActiveSync licenses.2 In addition, organizations may scale capacity temporarily during times of business disruptions or emergencies using Spike licenses.
---
Global High Availability
The SonicWall CMS provides a turnkey solution to deliver a high degree of business continuity and scalability. Global High Availability (GHA) empowers the service owner through a series of tools to deliver a service with zero downtime and allows service organizations to fulfill very aggressive SLAs.
GHA supports Active/Active and Active/Standby clustering with either a physical or a combination of physical and virtual appliances, whether in a single data center or in a geographically dispersed data center. This significantly reduces upfront capital costs for the customer where appliances are in active use all the time rather than depreciating in a data center waiting for a disaster scenario.
GHA enables SMA appliances to scale performance by deploying multiple appliances, thus eliminating a single point of failure. This provides resilience whether IT deploys 2 SMA appliances in the same data center or clusters of up to 100 physical and virtual appliances across multiple data centers around the globe.
Further, a global data store shares user session state across the mesh network of SMA appliances in an active-active cluster.4 This allows for session persistence across data centers around the world. In the event of a failover, users do not need to re-enter credentials, so their experience is frictionless and productivity is not impacted.
Real Time Dashboard
The CMS dashboard displays a quick overview of the appliances being managed. The geographic view shows a visual location of the appliance based on its city and country obtained during configuration. The alerts pane on the dashboard shows a consolidated view of all currently active alerts. The Alerts are intuitive and color coded to provide a quick status: Red (ERROR), Yellow (WARNING) and Green (OKAY). The dashboard provides real-time data for online managed appliances, and includes Name, Status, Users, CPU usage, Memory usage, Mbps & Uptime.
CMS enables administrators to create system-wide reports and charts, with ability to export to CSV or MS Excel. Administrators can generate ad hoc reports for audit and compliance based on categories (such as Users, Access, Devices, Capture ATP or Network). It enables greater insight into usage trends and remote access events. The near real-time reporting also provides granular drill down to insights, such as the bandwidth consumption, data transferred to users, access zones in use by users, destinations accessed by users and number of user sessions on appliances or realms.
Features & Benefits:
Global load-balancing – SonicWall Global Traffic Optimizer (GTO) offers intelligent global load-balancing with zero-impact to users. Traffic is routed to the most optimized and highest performing data center.
Dynamic high availability – Managed appliances that run SMA OS 12.1 or higher can be configured as Active/Active or Active/Standby HA clusters for redundancy, availability and reliability, whether deployed in a single data center or across multiple geographically dispersed data centers.
Zero impact failover – Universal session persistence provides high-performance, low-latency failover in a global high availability cluster. In the event that an SMA appliance goes offline, users do not need to re-enter their credentials for login, thereby providing a frictionless user experience and improving workforce productivity.
Scalable performance – Scale performance and eliminate single point of failure by clustering appliances. Horizontal clustering fully supports mixing physical and virtual SMA appliances.
Dynamic licensing – User licenses no longer have to be applied to individual SMA appliances. Users can be distributed and reallocated dynamically among the managed appliances, based on user demand.
Central management – CMS includes the central management console (CMC), which provides centralized, web-based management for all SMA capabilities.
Custom alerts – Alerts can be configured to generate SNMP traps that are monitored by any IT infrastructure Network Management System (NMS). Administrators can also configure alerts for Capture ATP file scans and disk usage for immediate actioning.
Real-time monitoring – SonicWall CMS dashboard provides a single pane of glass view for IT administrators to monitor the health of all the SMA appliances and view useful information such as network activity, license and capacity usage etc.. Administrators can customize the dashboard, visualize the data and generate ad hoc reports with ease using the intuitive interface.
SIEM integration – Real-time output through a SYSLOG export to central SIEM data collectors allows security teams to correlate event driven activities, to understand the end-to-end workflow of a particular user or application. This is critical during security incident management and forensic analysis.
Automated maintenance – SonicWall CMS comes with a built-in scheduler that enables IT Administrators to automate maintenance tasks such as deploying policies, replicating configuration settings, rolling out firmware patches or upgrades and restarting services, without manual intervention.
24x7 support – No additional support license is required. Round-the-clock coverage is included with central pooled user licenses.
Pricing Notes:
Pricing and product availability subject to change without notice.
CMS Appliance (Base) Customers can upgrade from the free trial to a Base CMS license at no cost. The Base CMS license allows the CMS to monitor and manage up to 3 appliances. The Base CMS license does not have user licenses and does not expire.
CMS Appliance (Full) Customers who want to manage more than 3 appliances need to purchase the stackable annual license. With this license customer can manage up to 100 appliances. This license expires and needs to be renewed at the end of its term.
All SMA Licenses can be found on their own individual product pages or purchase them below, more options can be found on individual product pages. Can't find the part you are looking for? Contact us today!
SonicWall Products
CMS appliance licenses (subscription)
SMA CMS Base + 3 Appliances License Used with Subscription User Licenses
Includes license for 3 appliances and 24x7 Support for 5 years
#01-SSC-8535
Get a Quote!
SMA CMS 100 Appliances License 1 Year Used with Subscription User Licenses
Includes license for up to 100 appliances and 24x7 Support for 1 year
#01-SSC-8536
List Price: $2,000.00
Add to Cart for Pricing
Central user licenses (subscription)
SMA CMS Pooled License 10 User 1 Year
Pooled Subscription FULL user licensing, supporting ALL functionality of SMA. Gives concurrency max for 10 user sessions, requires CMS management license. Includes 24x7 Support for all managed appliances
#01-SSC-2298
List Price: $500.00
Add to Cart for Pricing
SMA CMS Pooled License 10 User 3 Year
Pooled Subscription FULL user licensing, supporting ALL functionality of SMA. Gives concurrency max for 50 user sessions, requires CMS management license. Includes 24x7 Support for all managed appliances
#01-SSC-2299
List Price: $1,300.00
Add to Cart for Pricing
SMA CMS Pooled License 1000 User 1 Year
Pooled Subscription FULL user licensing, supporting ALL functionality of SMA. Gives concurrency max for 50,000 user sessions, requires CMS management license. Includes 24x7 Support for all managed appliances
SMA CMS Pooled License 1000 User 3 Year
Pooled Subscription FULL user licensing, supporting ALL functionality of SMA. Gives concurrency max for 10 user sessions, requires CMS management license. Includes 24x7 Support for all managed appliances
SMA CMS Pooled License 50000 User 1 Year
Pooled Subscription FULL user licensing, supporting ALL functionality of SMA. Gives concurrency max for 20,000 user sessions, requires CMS management license. Includes 24x7 Support for all managed appliances
SMA CMS Pooled License 50000 User 3 Year
Pooled Subscription FULL user licensing, supporting ALL functionality of SMA. Gives concurrency max for 50,000 user sessions, requires CMS management license. Includes 24x7 Support for all managed appliances
Central user licenses (perpetual)
SMA CMS Pooled Perpetual Full License 10 User
Pooled Perpetual FULL user licensing, supporting ALL functionality of SMA. Gives concurrency max for 10 user sessions, requires support and CMS management license
#01-SSC-2053
List Price: $900.00
Add to Cart for Pricing
SMA CMS Pooled Perpetual Full License 1000 User
Pooled Perpetual FULL user licensing, supporting ALL functionality of SMA. Gives concurrency max for 1,000 user sessions, requires support and CMS management license
SMA CMS Pooled Perpetual Full License 50000 User
Pooled Perpetual FULL user licensing, supporting ALL functionality of SMA. Gives concurrency max for 50,000 user sessions, requires support and CMS management license
24X7 Support for central user licenses (perpetual)
SMA CMS Pooled Perpetual 24x7 Support 10 User 1 Year
Pooled Perpetual 24x7 Support for 10 user sessions for 1 year, requires CMS Perpetual Pooled licensing and CMS management license
#01-SSC-2065
List Price: $300.00
Add to Cart for Pricing
SMA CMS Pooled Perpetual 24x7 Support 10 User 3 Year
Pooled Perpetual 24x7 Support for 10 user sessions for 3 years, requires CMS Perpetual Pooled licensing and CMS management license
#01-SSC-2076
List Price: $800.00
Add to Cart for Pricing
SMA CMS Pooled Perpetual 24x7 Support 1000 User 1 Year
Pooled Perpetual 24x7 Support for 1,000 user sessions for 1 year, requires CMS Perpetual Pooled licensing and CMS management license
SMA CMS Pooled Perpetual 24x7 Support 1000 User 3 Year
Pooled Perpetual 24x7 Support for 1,000 user sessions for 3 years, requires CMS Perpetual Pooled licensing and CMS management license
SMA CMS Pooled Perpetual 24x7 Support 50000 User 1 Year
Pooled Perpetual 24x7 Support for 50,000 user sessions for 1 year, requires CMS Perpetual Pooled licensing and CMS management license
SMA CMS Pooled Perpetual 24x7 Support 50000 User 3 Year
Pooled Perpetual 24x7 Support for 50,000 user sessions for 3 years, requires CMS Perpetual Pooled licensing and CMS management license
Central Spike licenses
SMA CMS Spike Add-On License 100 User 5 Days
SMA add-on license for 100 user spike sessions for 5 days, requires CMS license and pooled users Can be used in conjunction with either POOLED PERPETUAL or POOLED SUBSCRIPTION. No expiry, will require renewal once 5 days has been consumed. Stackable
#01-SSC-2109
List Price: $1,000.00
Add to Cart for Pricing
SMA CMS Spike Add-On License 1,000 User 5 Days
SMA add-on license for 1,000 user spike sessions for 5 days, requires CMS license and pooled users. Can be used in conjunction with either POOLED PERPETUAL or POOLED SUBSCRIPTION. No expiry, will require renewal once 5 days has been consumed. Stackable
#01-SSC-2111
List Price: $5,000.00
Add to Cart for Pricing
SMA CMS Spike Add-On License 50,000 User 5 Days
SMA add-on license for 50,000 user spike sessions for 5 days, requires CMS license and pooled users. Can be used in conjunction with either POOLED PERPETUAL or POOLED SUBSCRIPTION. No expiry, will require renewal once 5 days has been consumed. Stackable
CMS FIPS add-on (perpetual)
SMA CMS FIPS Add-On
#02-SSC-0401
Our Price: $11,985.00